Beginner Classes Enrolling Now! Kid's Martial Arts in Columbia Teaches Discipline & Self Confidence!

Get Started Today!
Kids Martial Arts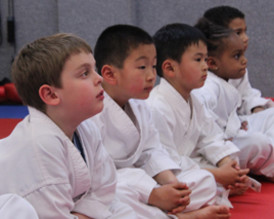 Your child will learn the core character-shaping values of Martial Arts—honesty, integrity and respect, as well as critical self-defense skills and how to deal with bullies, tough peer pressure, and the right things to do when approached by strangers or placed in uncomfortable situations.
Learn More

»
Kickboxing Fitness and Self Defense
Effortlessly lose unwanted weight as you punch and kick your way through this intense, calorie-crushing workout! By combining the bag-pounding workout of boxing with the powerhouse kicks of Tae Kwon Do, our kickboxing fitness and self-defense classes will have you shedding fat and firming up with every move you make!
Learn More

»
Adult Martial Arts
Awesome Academy's Adult Martial Arts classes are guaranteed to get you looking and feeling your best in almost no time! Unlike any other fitness class available, Awesome Academy promises to give you a gorgeous, rock-hard body you won't want to wait to show off!
Learn More

»
Experience the Best Martial Arts School In Columbia and Baltimore!
See results in no time! We are conveniently located near Laurel, Odenton, Jessup, Ellicott City, Elkridge, Catonsville, Baltimore, or Columbia, Maryland. If you want to get in shape and learn real Kids Martial Arts, Kickboxing Fitness and Self Defense and Adult Martial Arts then Awesome Martial Arts Training Center is the perfect place for you!